The past couple of days I've seen articles discussing the Mega Man 25th Anniversary Art book which will be "premiering" at the San Diego Comicon. That's coo'. If you're looking for a limited edition hardcover with foil printing on the cover, that's probably going to be a great item to pick up.
I'm actually a huge sucker for Mega Man, and so unquestioningly I recommend you buy the crap out of that book. But if you're on a budget, the $100 asking price for it isn't strictly necessary. I actually just picked up the Japanese version very recently at Kinokuniya here in San Francisco. It's also available from Amazon and CDJapan. If you can't wait to get your hands on it, I say go for it! While you may not get the full benefit if you can't read Japanese (there are captions, and about 17 pages of interviews), the fact is, it's an art book. It's got thousands of pictures. And some mighty fine ones at that.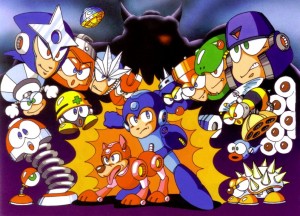 Old game art makes me drool
Of course, if you're not in a rush, and still looking for a slightly less exclusive item than the Comicon version… you could always pre-order the soft cover English edition. By the way, their advertising that states "over 430 pages"? There's 432 including the credits and table of contents. Still good stuff though.
Here's a picture you won't find in the book. I did it as fan art back in like 2005 or something.